All things you need know about recycling capsules leftover
If you use coffee pods or Nespresso pods on a regular basis, there's a good possibility you have a lot of empty pods in your garbage. Our lovely planet should not be sacrificed for the sake of convenience. You can now have your coffee pods and recycle them at the same time! Throwing recyclables in the garbage is irresponsible.
You can recycle your spent coffee pods in the classic sense or use them in a variety of ways around the house instead of throwing them in the trash. To provide you all the information you need about coffee pods and Nespresso recycling, we've put together this helpful guide with recycled coffee pods ideas.
CAN COFFEE PODS BE RECYCLED?
Is recycling capsules leftover possible? Yes! Even certain non-recyclable coffee pods can be responsibly recycled in both traditional and unconventional ways. Plastic, metal, a paper filter, and organic material in the form of coffee grinds make up the majority of coffee pods. When you recycle your used coffee pods, you can usually separate, process, and recycle all four materials in a sustainable manner. Throwing recyclables in the garbage is irresponsible.
Online sites can assist you find the recycling capsules leftover locations closest to you
If you don't want to recycle these pods yourself, you can still recycle them via one of two different options. If your county or town doesn't recycle specific plastics or metals, online sites can assist you find the recycling locations closest to you. You can also submit your spent coffee pods to a number of companies, including the coffee pod makers themselves, and they try recycling capsules leftover for you.
Check out the Latest coffee tips on the coffeemag.ca : Five proper tips for grinding coffee beans
These products can be recycled, but they must be properly disposed of. One issue is that some people will either discard the coffee pods in the garbage without attempting to recycle them or would throw the entire pod into the recycling bin without properly sorting it. Throwing recyclables in the garbage is irresponsible. Both of these approaches are inefficient, and the pod may never be recycled.
HOW CAN COFFEE PODS BE RECYCLED?
Coffee pods aren't biodegradable, but that doesn't mean they have to stay in a landfill indefinitely. You may recycle your spent coffee pods and Nespresso pods in a variety of ways. Manufacturers are still refining their product designs in order to generate recyclable or compostable pods. Some of these businesses even let you drop off pods at drop-off locations or have them picked up or mailed to you from your home. They take care of shredding the pods, recycling the aluminum, and composting the grounds as well as recycling capsules leftover.
Recycling coffee pods at home
To start recycling coffee pods at home, you must first realize that each coffee pod is unique. Polypropylene plastic, often known as number 5 plastic, is used to make certain pods. Plastics numbered 1 through 6 are all unique, while plastics with the number 7 represent all other plastics. Many communities accept number 5 plastic for recycling, while only a few take number 7 plastic. If your municipality does not accept all types of aluminum, you may be forced to discard foil tops.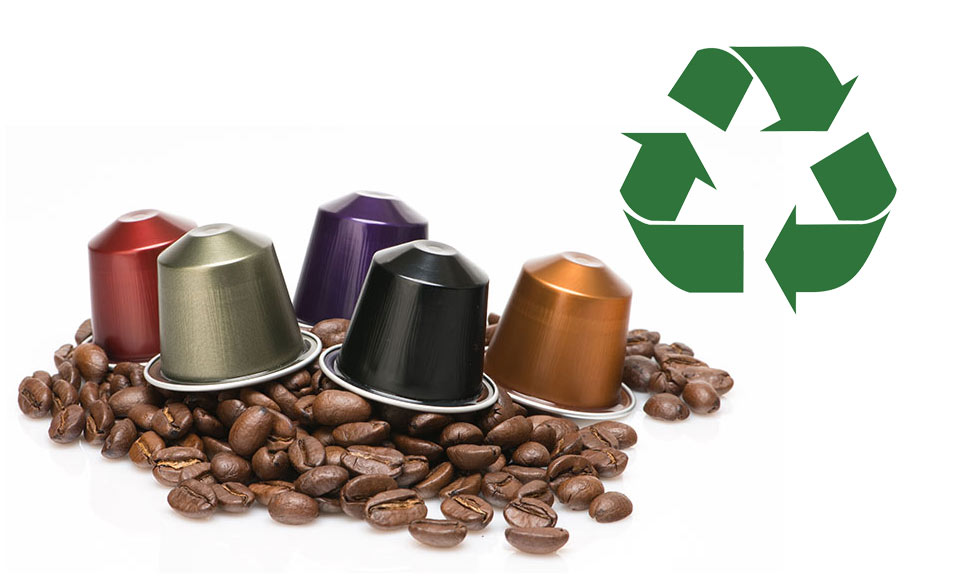 Despite these firms' efforts to offer more environmentally friendly goods, certain coffee pods remain non-recyclable. Remove the coffee grounds, peel the aluminum top off, and remove the filter before recycling those made with number 5 plastic. To separate and recycle your spent coffee pods and the components of number 7 plastic pods, a sharp edge may be required.
IN SECONDS, YOU CAN RECYCLE PODS
Allow the pod to cool completely before touching it after you've finished brewing. It's time to peel! Remove the pod from the container and the foil lid. Without any further processes, this lid may be put into your metal recyclable bin. It must be emptied! Remove all used coffee grounds from the pod. While you may shovel these out over the sink or into the trash, we recommend gathering the grounds and composting them. It Can Be Recycled! Place our plastic filter and pod in your plastic recycling container.
Always follow your local recycling and composting guidelines, regardless of whatever coffee pods you use. In the same way that throwing recyclables in the garbage is irresponsible, putting the wrong materials in your recycling bins is a bad idea. Why not use your coffee pods around your house if you want to make sure they're recycled and put to good use? There are dozens of fun and functional ways to repurpose used coffee pods, believe it or not.