How to have a great cup of coffee with paper filter extraction? The paper filter extraction, V60, has grown in popularity in last recent years. It produces exceptionally distinct flavors and smells, allowing coffee enthusiasts to appreciate even the most delicate elements in their coffee. You can make a delicious cup of coffee in under three minutes. In this post we will tell you How to have a great cup of coffee with paper filter extraction.
What is the Hario V60 Coffee Dripper and how does it work?
The Hario V60's form, design, and materials were chosen to help provide the best extraction possible. They are available in a variety of materials, including ceramic, plastic, glass, and metal, and may be customized to fit any budget or purpose. Copper, for example, is related with improved extraction due to the V60's ability to hold more heat. Others, like as the plastic Hario V60, are built with the traveling barista in mind rather than heat retention in mind.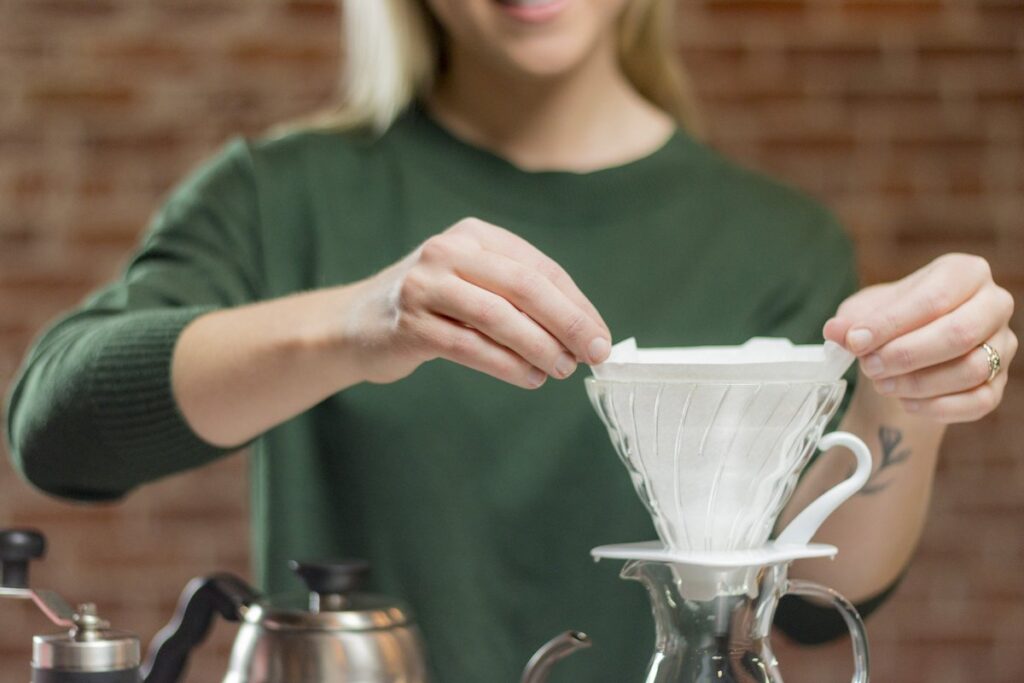 Reducing sediment
How to have a great cup of coffee with paper filter extraction?   During the brewing process, the Hario V60 also provides a fantastic way to reduce any undesired sediment. They are well worth the money for anyone who likes making coffee at home.
Everything you'll need
Do you want to know how to have a great cup of coffee with paper filter extraction?   Check out our detailed tutorial on how to brew with V60 if you need help producing the perfect V60 coffee. This includes everything you'll need to guarantee that your coffee brews to perfection. In general, a V60 coffee to water ratio of 6-8g coffee per 100g water (1ml water Equals 1g water) is recommended.
One to three mins for each cup
This should take 1-3 minutes for 1 cup, or 3-4 minutes for 2 cups, depending on the size of the V60 Dripper. Keep in mind that several other elements, like as the roast degree of the coffee and the temperature of the water used, influence the brewing time you should aim for.
Run hot water through paper filter extraction
Before you begin brewing, it's a good idea to run hot water through the paper filter extraction to rinse it and eliminate any residue or papery flavor.
A grind size of medium-fine.
A medium-fine grind is recommended. Changes to the grind setting have the same effect on all brew processes. A coarse grind allows water to flow through coffee without encountering as much resistance as a finer ground would. It also means that a coarser grind's brew time will need to be longer in order for the flavor to properly extract.
Water should be added slowly
When water is added slowly and flows slowly, it allows for more extraction, resulting in a richer, fuller-bodied coffee. Less extraction occurs when water is added rapidly and flows swiftly, resulting in a lighter-bodied coffee. This makes the V60 ideal for the coffee tinker who wants to extract varied flavors and tastes from the same bean by adjusting the grind size and water flow.
Kettle
Pouring may be done with any kettle, but the gooseneck kettle provides greater precision for professional coffee home brewers. This allows you to have greater control over your brew and better manage the water flow. A gooseneck kettle allows you to experiment with how water flow affects the flavor of your cup of coffee. The ability to regulate turbulence in the brewing coffee is a significant benefit of using one of these.
Check out the Latest coffee tips on the coffeemag.ca : At what age can children drink coffee?
Temperature
Uneven coffee extraction can be caused by sloppy pouring. In order to guarantee a uniform extraction and brew, you should pour in extremely controlled circular movements. Instead of "boiling," electric gooseneck kettles may be adjusted to a desired temperature. This means brewers may experiment with different water temperatures to discover the one that works best for them. Water temperatures of 92-96 °C are typically advised as a starting point.