How to drink an espresso cup correctly?
A guide to drinking espresso like an Italian
Warm your espresso cup
If you are an espresso lover who makes their coffee using their own espresso machine, you likely know this first step to drink an espresso cup correctly. So, it's just a reminder. Make sure that you are using the right cup, and warming the cup before pouring espresso into it.
In most parts of the world, baristas serve espresso in an espresso cup; it is ceramic and white. The best sup to drink espresso is named demitasse, which means 'half cup' in French.
If you are an espresso lover, you know what to buy the next time you are upgrading your china collection.
Smell the dark espresso liquid
Beneath the crema, there is a dark, thick layer of liquid. In the next step of our guide to drinking espresso like an Italian, we recommend inhaling the coffee aroma with a long, slow draw to feel a major part of the flavor.
Check out the Latest coffee tips on the coffeemag.ca : reason for the popularity of coffee
Sip sparkling water
This is an optional step! But also highly recommended if you like to appreciate the hidden flavor of the coffee bean fully. Best baristas in Italy and other countries serve a glass or bottle of sparkling water with an espresso. You might have thought what the heck is this sparkling water for? Now we will tell you: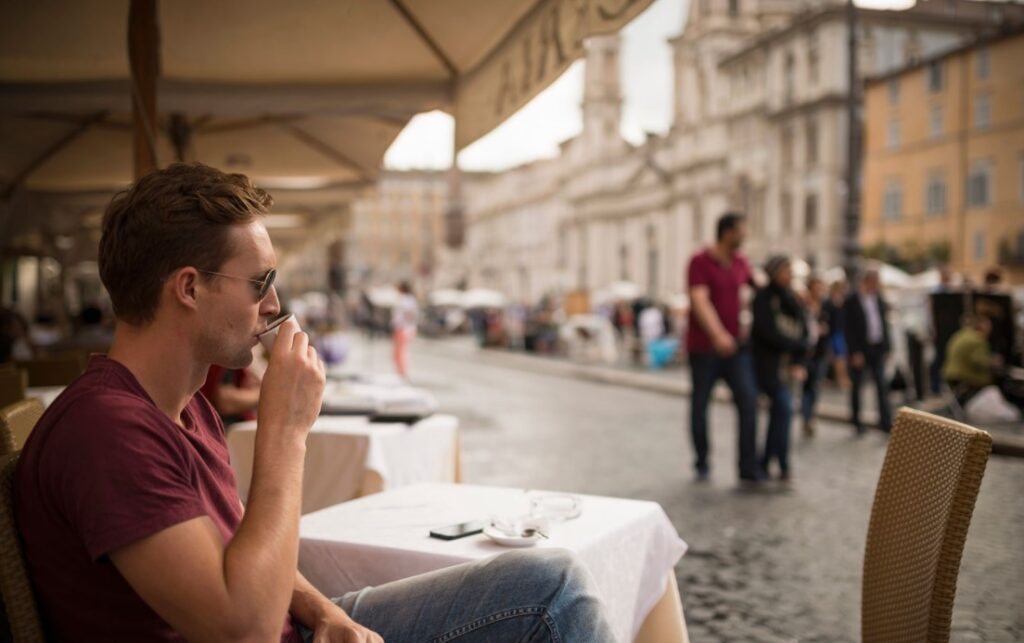 The sparkling water is served with your espresso to cleanse your palate so you can taste the rich, dark flavor of your shot in the best way possible. So, sip your sparkling water and cleanse your palate.
Skim away the crema by stirring
Stir your crema. The light brown, frothy layer that tops the surface of a good espresso, named crema, looks beautiful when you have a high-quality espresso. But it doesn't taste as good as it looks, since it's the result of CO2 which is produced during brewing. So, the next step to drink an espresso cup correctly is to get a spoon and scoop the crema off. If you are an espresso drinker for a long time, you might like to stir all the crema in your coffee and not skim it away, but if you did skim it away, in the next step give your coffee a stir to blend the thicker parts of the shot with the lighter notes, because the thicker parts sink to the bottom and the lighter parts stay on top.
Sip and enjoy
Once you did the four first steps of our guide to drinking espresso like an Italian, take a moment to appreciate the experience. Try to finish the shot before it cools. You can stir your espresso before sipping if you want a consistent taste, or not stir it if you like to discover the change in the flavor throughout a cup of espresso. Either way, let the beautiful, rich dark espresso roll over your tongue. Taste the flavor, and the texture of the drink. Absorb the fragrance of your little cup of magic.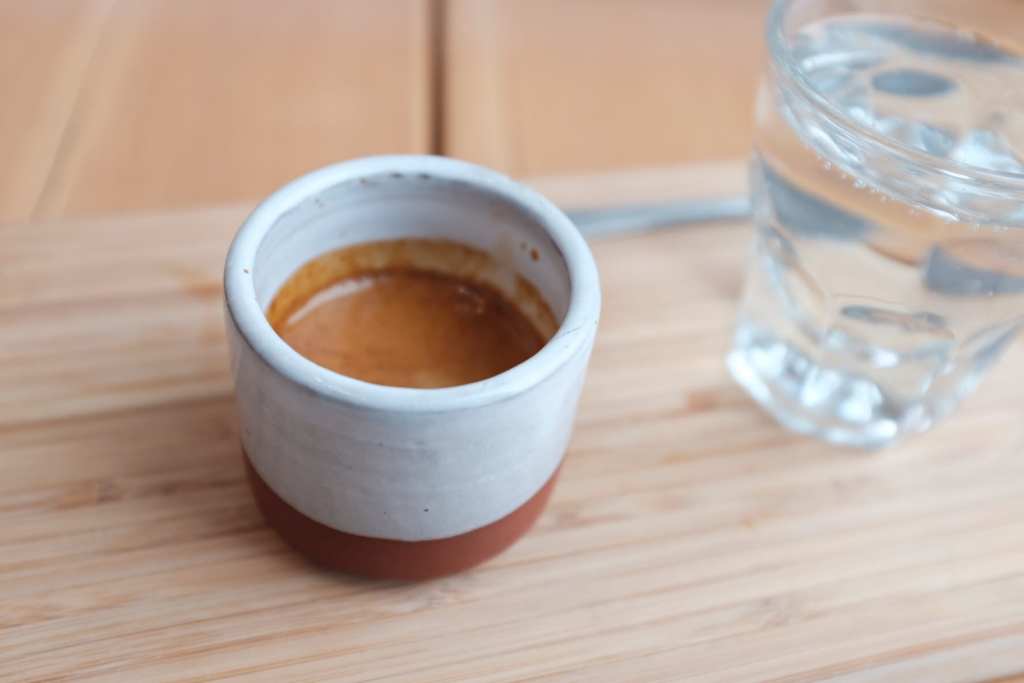 Certain features of the coffee bean will be magnified, and you will feel the real sense of its flavor. A good espresso is bitter, but not too much. It should be rich, but not overpoweringly rich. Drinking a good espresso, you should feel the depth of flavor, complicated by lighter, brighter notes. A good espresso has a substantial mouth feel.
Try other methods
There is not one correcct answer to the question "How to drink an espresso cup correctly?" so, you might also like to try some other methods like the "gulp" method, in which you drink a shot of espresso in one or two swallows before its flavor begins to change.
Now that you know how to drink an espresso cup correctly by reading our guide to drinking espresso like an Italian, you can enjoy your next cup of espresso in a different way.