Irish cream coffee is for individuals who enjoy their coffee with cream and sugar. A sweet, creamy, full-bodied coffee drink with just enough alcoholic punch to get your holiday started on the right foot. While this iconically Irish drink is associated with St. Patrick's Day, you'll quickly learn it's also the ideal hot beverage for a frigid Christmas morning. It just could become your new winter holiday favourite. If you want to know how to make Irish cream coffee, read on!
History of Irish Coffee
Joe Sheridan, a chef at Foynes Port near Limerick, Ireland, invented Irish Coffee in the winter of 1943. During WWII, Foynes became one of Europe's busiest civilian airports, and it later served as a base for transatlantic flights carrying politicians and celebrities.
The airbase was usually just a refueling stop for longer flights, but due to weather, passengers would often need to stay the night, so a new restaurant was built to cater to these dignified passengers.
Delectable concoction
One evening, a flight had to return to Foynes Air Base in the middle of its journey. Chef Joe Sheridan decided to make something special for the passengers who had been delayed, cold, and tired. According to legend, everyone fell silent as they drink this delectable concoction.
Huge success
Irish Coffee quickly became a popular airport treat. After the war, travel writer Stanton Delaplane introduced Irish Coffee to the United States in 1952. He brought it to the attention of Jack Koeppler, a bartender at San Francisco's Buena Vista Hotel, and convinced him to recreate it. When Koeppler attempted to make the drink, the cream kept sinking, so he travelled to the source, Chef Joe Sheridan in Limerick, Ireland, to learn the proper way to make this delicious coffee.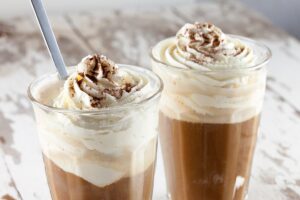 What is the distinction between Irish Cream Coffee and Irish Coffee?
I refer to Irish cream coffee and Irish coffee as sister recipes because they are two very similar coffee cocktails. The distinction between them is due to two ingredients: sugar and Irish cream. The only alcohol used in an Irish coffee is Irish whiskey, and one or two teaspoons of brown sugar is recommended to help cut the bitterness of the coffee. An Irish cream coffee, on the other hand, does not require additional sugar because it substitutes half of the whiskey for Irish cream, which is naturally sweet.
Do you prefer it extra sweet?
Add an extra teaspoon or two of sugar if desired. Do you prefer it extra creamy? Try replacing all of the whiskey with all of the Irish cream. If you've found your way here and don't like cream in your coffee, make a classic Irish coffee with all whiskey and as much brown sugar as you like.
Recipe for Irish Cream Coffee
This Irish cream coffee is a great place to start if you want to up your cocktail game this St. Patrick's Day. It's a lightly sweetened, creamy coffee beverage with a kick of Irish whiskey and Irish cream.
Items needed
6 ounces hot coffee
1 ounce Irish cream
1 ounce Irish whiskey
1/2 ounce heavy cream, lightly whipped
How to prepare
Making light whipped cream
The only difficult part is getting the whipped cream just right. When I say "lightly whipped cream," I mean cream that has thickened slightly but is not yet firm enough to form peaks. The idea is to make whipped cream that is soft enough to drink with your beverage rather than just floating on top, making it creamier with each sip.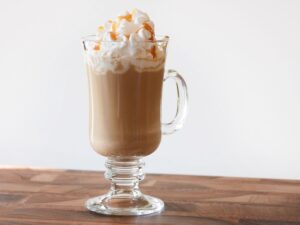 Instructions
Make some coffee. Pour over, drip, or French press coffee in either regular or decaf. Whip the cream lightly until it foams but does not form peaks.
Combine coffee, whiskey, and Irish cream in a 9-ounce or larger coffee mug or Irish coffee glass. Top with whipped cream and serve.
Notes
Use a milk frother to quickly whip the cream. Alternatively, whip it with a whisk or use a dollop of canned whipped cream. Whip all of the cream at once if you're making multiple coffees.
La Crema Coffee Irish Crème
La Crema Coffee Irish Crème packaging length is 5 inches. The product's packaging width is 3 inches. The product's packaging height is 10 inches. The aroma from the cup is very nice. It is cherry aroma, and the flavour is almond/cherry and delicious.