How to Make a Traditional Espresso Martini! With a creamy, frothy top and topped with coffee beans, this coffee drink is powerful, sweet, and delightful. It's the ideal after-dinner drink after a heavy meal, but it's also great for getting the party started! If you want to know how to make Martini espresso cocktail, read on!
History of Martini Espresso Cocktails
The Espresso Martini is a decadent combination of vodka, coffee liqueur, and espresso. Who knew vodka and espresso would go so nicely together? It's rich, decadent, and creamy, and the shot of espresso will give you a jolt of energy if you've had a long day!
Who came up with the Espresso Martini?
This delectably smooth drink was created by British bartending master Dick Bradsell. Through his work at The Player, 6 Degrees, and Match, he is recognised for redefining the cocktail scene in London in the 1980s. Bradsell is also credited with creating modern masterpieces such as the Bramble.
Bitter and sweet
According to legend, Bradsell invented the cocktail, which was initially dubbed The Vodka Espresso and subsequently the Pharmaceutical Stimulant, at Fred's Club in the late 1980s. Bradsell states that a young model walked up to the bar and requested for something to wake me awake. His remedy was a frothy cocktail of bittersweet addiction made with vodka, fresh espresso, coffee liqueur, and sugar. The Espresso Martini has become a global classic.
Why do we add three coffee beans to a Espresso Martini?
Have you ever wondered why your espresso martini always comes with three coffee beans on top? This is the cocktail's hallmark, and it is thought to symbolise health, riches, and pleasure. It is derived from the customary serving of Sambuca in Italy, where the beans are known as con la mosca, which translates to "with the fly." Both drinks allow you to chew and consume the coffee beans, but it is entirely up to you!
Martini espresso cocktail Ingredients
Coffee – use strong espresso coffee that has been produced in a machine with plenty of froth! Instant coffee should be avoided while creating this cocktail since it will not taste like an authentic Espresso Martini without proper espresso.
Kahlua – This is a delicious coffee and rum liqueur that tastes amazing and adds the nicest flavour to this cocktail.
Vodka – Use your favourite vodka in this recipe; it does not have to be pricey!
Simple syrup is used to sweeten the beverage and to balance the tastes of the strong coffee and vodka. Simple syrup can be purchased in bottles or made by bringing equal parts water and sugar to a boil and then allowing it to cool fully.
Coffee beans are a classic and enjoyable garnish, although they are not required for flavour.
How to prepare Martini espresso cocktail
Brew the coffee and rapidly pour it into a basin to cool. Fill the cocktail shaker halfway with ice, then add the iced coffee, vodka, and simple syrup. After that, add the Kahula. Shake the drink vigorously in a cocktail shaker. Fill martini glasses halfway with espresso martini. Serve with three coffee beans on top.
Tips
If you don't allow the coffee cool fully after making it, it will melt the ice and you won't have a beautiful chilled drink. You may fast chill your coffee by placing it in the freezer for a few minutes. Make careful to shake the drink vigorously to get that wonderful froth on top. Pour the drink into your glass quickly to ensure the froth stays on top!
Cool completely
If you don't have bottled simple syrup, you may create your own by heating equal parts sugar and water until the sugar dissolves. Remove from the heat and set aside to cool completely before using.
Mixology Bartender Kit with Stand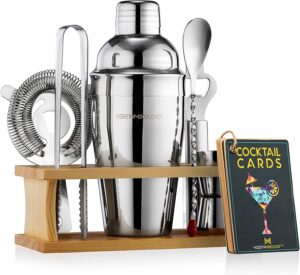 Mixology Bartender Kit with Stand | Silver Bar Set Cocktail Shaker Set for Drink Mixing This cocktail set comes with an 18oz shaker, a Hawthorne strainer, a double jigger, ice tongs, a bottle opener, a mixing spoon, and a stand! Everything you need in one place. Mixology Bartender Kit with Stand is made of heavy-duty stainless-steel alloy and is meant to last. It's time to change things up with this designed for frequent usage. These long-lasting bar gadgets steal the show.
They are easy to hold for flairing, combining, and stirring, do not leak, and are dishwasher safe.