Nutella has found its way into almost every dish imaginable, so why not try it in a cool beverage? On a hot day, this 4-ingredient Nutella iced coffee is the ideal way to unwind. This recipe is slightly sweet and can be served as a dessert, but it's also light enough to serve as a breakfast drink. If you want to know how to make Nutella Ice Latte, read on! Here is Nutella Ice Latte recipe.
What is Nutella iced latte?
Nutella iced latte is a delightful iced drink made with Nutella, freshly brewed espresso shots, a splash of milk, whipped cream, and a fair number of ice cubes. The coffee is gently sweetened by the Nutella and has a lovely nutty flavour. The tastes complement each other wonderfully and highlight the Nutella flavour. The espresso coffee serves as an excellent foundation.
Nutella Ice Latte Ingredients
This iced latte may be made in a variety of ways, using a variety of other ingredients. However, the following ingredients are required for this simple recipe:
Nutella
Two shots espresso or freshly made coffee
Full-fat milk
Whipping cream
Cubes of ice
How to prepare Nutella Ice Latte
Step 1
Gather all of the ingredients ahead of time so you can easily prepare this easy Nutella iced coffee: Make your favourite cup of coffee. For this recipe, I used two espresso shots. Allow the coffee to cool before using it. To cool it entirely, place it in the refrigerator or add ice cubes.
Step 2
Combine the Nutella and whole milk in a glass of your choosing. Stir well until the Nutella has melted into the milk. Tip: Warming the milk slightly can help the Nutella dissolve faster. Fill the glass with ice cubes to make your drink beautiful and frosty. I used eight ice cubes. Pour your cooled coffee slowly over the Nutella milk.
Step 3
Finish with a generous dollop of whipped cream. You've just produced one of the most delectable iced coffees ever!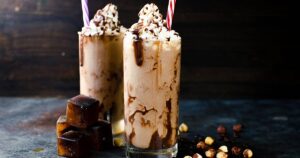 Notes
Before consuming, I recommend swirling the drink. This ensures that all of the tastes are well-mixed and that you have a well-balanced frosty drink waiting for you. You may add extra Nutella or use less coffee to make the coffee sweeter.
What type of coffee works best in this recipe?
To ensure the success of this iced coffee, use strong espresso coffee or a French press to prepare aggressively brewed coffee. For this recipe, I like to use two espresso shots. This is the precise amount of coffee required for this recipe. Furthermore, the nutty flavour of Nutella complements the distinctive and powerful flavour of espresso coffee. If you don't like strong-tasting coffee, you may make an excellent pot of coffee using a French press instead.
What is the calorie count of this Nutella iced coffee?
This Nutella iced coffee contains 278 calories. The Nutella and whole milk provide the majority of the calories.
Verdict
If you like Nutella and coffee, this dish is a fantastic complement. I appreciate that you can cook this meal in minutes using simple items you probably already have on hand. This may be the simplest and most wonderful iced coffee I've ever made. The tastes complement each other nicely, and leisurely drinking this drink while relaxing in the sun is a genuine joy.
Mr. Coffee Iced Coffee Maker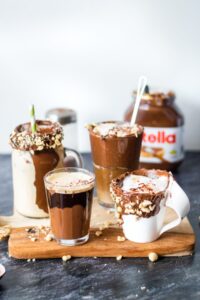 Mr Coffee Iced Coffee Maker makes it simple to prepare delightful iced coffee at home in minutes. The simple measurement mechanism with integrated scoop makes it simple to brew the ideal ratio of hot, concentrated coffee over ice, resulting in powerful, delicious coffee that is never watered down.
Brewing method allows you to enjoy delicious iced coffee with less waste
The pod-free brewing method allows you to enjoy delicious iced coffee with less waste. Simply fill the tumbler with ice and fill the machine with water and coffee grinds before pressing the Start button.
How to Customize
Make it your own by adding your favourite flavourings and milks, then drink and enjoy. You'll always have great iced coffee on hand to help you get through the day! You may also save money by preparing your own iced coffee at home!