If you haven't had an Iced Shaken Espresso before, it's a reimagining of the famous Starbucks Doubleshot on Ice. It's created with rich, full-bodied espresso iced with ice and mellowed with low-fat milk and sweet syrup. It is, of course, handshaken. Indeed, shaking this drink is what makes it so unique. If you want to know how to prepare Caramel Shaken Espresso, read on! Here is Caramel Shaken Espresso recipe.
Caramel Shaken Espresso Ingredients
Espresso
Sweetener – I like to use brown sugar, honey or chocolate syrup
Flavoring – Spices or vanilla extract
Ice cubes for shaking
Large ice cubes to pour over
Milk of choice – I like to use half and half or oat milk
How to prepare Caramel Shaken Espresso
Step 1
Shake freshly brewed espresso and sugar over ice to make iced shaken espresso. Then, pour over new ice and top with your preferred milk. 2oz of espresso has around 120mg of caffeine, whereas 16oz of cold brew contains approximately 200mg of caffeine. So I'm receiving less caffeine from the espresso, and I can even create decaf versions if I want.
Step 2
In a tiny cup, brew espresso over brown sugar. In a cocktail shaker, combine espresso and ice. Pour the shaken espresso over ice. Make a cool oatmilk froth and pour it over the espresso drink.
How Can you Create Cold Foam?
I like to add cold foam to my shaken espresso beverages. I produce my cold foam in a milk frother set to cold. If you don't have a milk frother, you can make cold foam using the following methods:
Handheld milk frother – use a hand whisk to stir cold milk in a jar. Pour milk into a french press and vigorously push the plunger up and down until the milk froths.
Glass jar – Pour the milk into a glass jar and violently shake it until the milk froths.
Why Do You Use Large Ice Cubes?
Because larger ice cubes melt more slowly than smaller ones, your shaken espresso drink will be less watered down by melting ice. In my freezer, I use these silicone ice cube molds to generate large ice cubes.
Is Iced Shaken Espresso the new cold brew?
Cold brew used to be my favorite afternoon coffee, but the caffeine concentration is so high that I had to reduce back. When I heard that Starbucks' Iced Shaken Espresso beverages were becoming even more popular than cold brew, I knew I had to try them!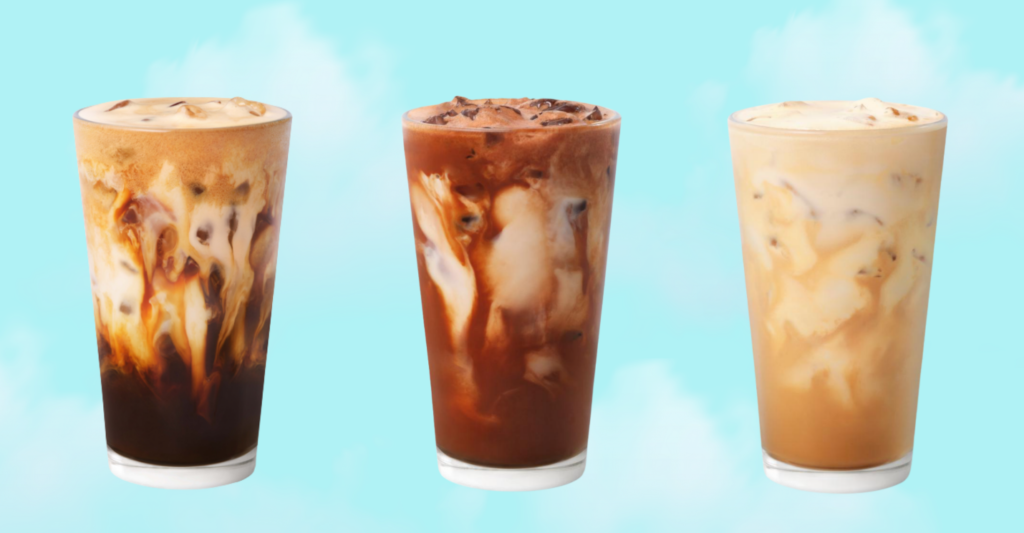 EXPERT TIPS
A cup of sugar and a cup of water are combined in a pot on the stovetop to produce simple syrup. Heat on low until the sugar melts completely. Allow to cool before pouring into an airtight glass jar and storing in the refrigerator. It will keep for 3-4 weeks.
Make it your own!
 Try it with oat milk or soy milk instead of 2 percent milk. Instead of conventional simple syrup, try it with vanilla syrup.
Instead of milk, add cool foam to your drink
A grande sized drink contains three shots of espresso, which is a little problematic because most machines only create two shots at a time. Start with two shots of espresso and, if it's too weak, add another shot. Because of the caffeine, 4 shots may make you jittery. Starbucks makes it with a splash of milk (approximately 1/4 cup), but feel free to add more to taste. Add cold foam to your milk.
Starbucks by Nespresso
Starbucks by Nespresso now makes the same high-quality Starbucks coffee that you know and love for you to enjoy at home. Furthermore, these capsules are composed of metal, ensuring coffee freshness. Every espresso beverage we make for you starts here. Our skilled roasters coax the beans along, the heat transporting them deep and dark for a caramelly sweetness formula. A combination of beans from Latin America and Asia/Pacific, roasted exclusively by us.
Are these coffee pods compatible with Verismo or Keurig K-Cup machines?
No, these coffee capsules are only compatible with original line Nespresso machines such as the Essenza Mini, Pixie, CitiZ, Expert, Lattissima, KitchenAid, and Creatista.
What kinds of espresso drinks can I prepare with these capsules?
Original Nespresso machines can manufacture espresso, which is used to prepare a variety of beverages such as Americano, latte, cappuccino, macchiato, mocha, and affogato.