Coffee capsules are designed to be used with a certain brand or gadget. As a result, not all capsules will function with coffee capsule devices. You must use a certain capsule with a specific machine. Coffee capsules may also be available in disposable packages with a plastic or aluminum body. Ground coffee is contained in these packages. They've also trademarked capsules found in more recent machine-compatible containers. If you want to know how to prepare using coffee capsules, read on.
What is a coffee capsule?
Coffee capsules are little containers of coffee powder that are made of plastic or aluminum. They are typically cylindrical in form, with an aluminum top. They are only compatible with capsule coffee makers and are frequently limited to a single brand.
Learning to use an espresso machine
Start and Preheat Your Espresso Maker
To get the most out of your espresso maker, make sure that the entire machine is warmed. Some machines might take up to 25 minutes to warm up, so have your machine ready ahead of time!
Your Beans Should Be Measured And Grinded
Set your grinder to a fine grind size; don't worry about what "perfect" looks like for now; we'll get to that later. Place your portafilter on the scale and tare it, then fill your portafilter with approximately 20 grams of ground coffee. It's a good idea to keep track of how much you used so you can stay consistent during the dialing in period.
Tamp the ground so that the bed is flat and even.
Before tamping, make sure your beans are fairly evenly spread. This may be done by softly touching the side of the portafilter with your palm, or by leveling the espresso grinds with the side of your finger, as seen above.
Take your first shot.
Time how long it takes to hit 2 ounces while pulling this shot (the typical size of a double shot). You should aim for between 20 and 30 seconds every pull. If you're in this range, you're technically finished; you've produced espresso. Hopefully, it will be rich, black, sweet, and beautiful. But, in truth, this initial shot is only setting a baseline.
Insert The Shot
Take note of the pressure attained if you're using a machine with a pressure gauge. This will help you modify your next shot whether there is too much or too little pressure. Good espresso machines (such as this) will show you how successfully (or badly) your shot has been extracted.
You Should Steam Your Milk
If you're creating a latte, macchiato, cortado, or cortadito, the next step is to steam the milk. Hopefully, your machine includes a steam wand. Otherwise, you'll need to use a separate milk steamer to steam your milk.
Nespresso Capsules VertuoLine
MELOZIO is a pleasant and well-balanced coffee mix. 6. Intensity Fine grade Brazilian Bourbon and Central American Arabicas are softly roasted to provide a well-rounded, smooth, and properly balanced coffee. Adding milk softens and sweetens the coffee, increasing the biscuity overtones.
Melozio benefits
Nespresso Capsules VertuoLine Melozio benefits from the balance and harmony provided by Central American Arabica coffee, which is accentuated by the sweet, honey tones of quality Brazilian Bourbon coffee beans. The exquisite Brazilian Bourbon beans display tastes rich in sweet cereal overtones as a result of the split-roasting, resulting in a sensual, silky texture. The second split of Central American Arabicas provides the mellow flavour and balance.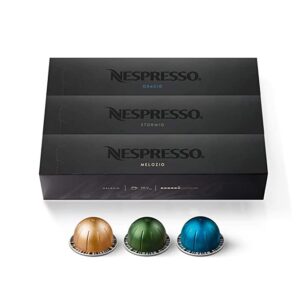 Cafe La Llave Espresso Capsules
Cafe La Llave Espresso is one of the best-selling espresso brands in the country, particularly among Latin customers. It's dark-roasted, extremely fragrant, and has a rich, robust flavor. In Spanish, 'Llave' means 'Key.' Based on its history, Cuba is the key to the Caribbean, and the green hue represents hope for a return to the homeland.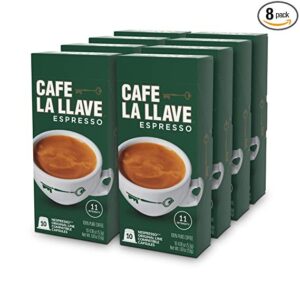 NESCAFÉ Dolce Gusto Genio 2 Coffee Machine
The automated, ultra-compact Nescafe Dolce Gusto Genio 2 capsule coffee machine is intended to meet your single cup brewing demands while taking up little space. Ideal for establishments that serve fewer than 6 cups per day.
QUALITY
Using the machine's high-pressure technology, you can make professional-quality coffee with a rich velvety crema (up to 15 bars). You'll enjoy rich fragrant cups every time you use our hermetically sealed capsules, which keep coffee fresh. This automated machine is very simple to use: simply insert a capsule, adjust the beverage size with the toggle stick, and press the button. Alternatively, if you want your coffee to be as simple as possible, follow the preparation instructions on the capsule.