Instant coffee is a contentious option among coffee connoisseurs, since many see it as false or poor coffee. It does, however, offer a convenience element, which some firms, such as Starbucks, have leveraged to promote higher-end coffees. But what exactly is the distinction between instant coffee and coffee brewed from whole beans? And what, precisely, is instant coffee? Here is all you need to know about instant coffee types.
What is a teapot coffee?
The nature of tea and coffee has resulted in varied forms for tea pots and coffee pots. The tea leaves float, and the spout, which connects to the body of the tea pot towards the bottom, allows the liquid brew to pour out from under them. Because coffee grounds sink, the spout is usually located towards the top of the coffee pot, allowing the coffee to pour out from above the grounds. Furthermore, the tea pot's more rounded form facilitates movement and floats the tea leaves.
Instant coffee ingredients
It is created by combining the powder with hot water, much like instant tea. Instant coffee is created by roasting, grinding, and brewing entire coffee beans. The brewed coffee is then completely dehydrated, leaving just dehydrated crystals.
Properties of instant coffee
Spray drying
Instant coffee is manufactured using either a spray-drying or a freeze-drying procedure. Spray drying is a method in which liquid coffee concentrate is sprayed in the form of a fine mist into hot air (about 480 degrees Fahrenheit). As the water evaporates, the coffee will have dried into little crystals when it reaches the ground.
Freeze drying
Freeze drying is a little more difficult. The coffee is boiled down into an extract, which is then cooled at around 20 degrees Fahrenheit until it resembles a coffee slushy. The slushy liquid is then refrigerated further using a belt, drum, or tray at -40 degrees Fahrenheit. This leads it to create slabs of frozen coffee, which are then broken down into granules and transferred to a drying vacuum, where the ice vaporises, leaving behind instant coffee granules.
Introducing the most popular instant coffees
Folgers Classic Roast Instant Coffee Crystals
The best part of Wakin' Up is that there is no waiting involved. In fact, a coffee machine isn't even required. Folgers instant coffee crystals will quickly improve your morning. Simply measure out one rounded teaspoon of Folgers coffee crystals for each six fluid ounce cup of hot water or milk, blend, and stir.
Amazing flavor
Folgers Classic Roast Instant Coffee Crystals This compact jar of 100 percent pure coffee may create up to 180 six fluid ounce recommended strength cups. Do you like your coffee a little stronger, or do you simply want to brew more at once? It's simple to go back and add more Folgers coffee crystals to taste with an easy-open flip-top jar. As a result, you may enjoy the amazing flavour of Folgers Classic Roast coffee whenever and however you like.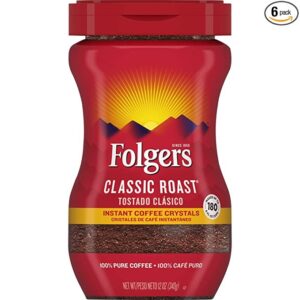 Nescafe Instant Coffee Packets
The NESCAFE Taster Packs provide a smooth and mildly roasted instant coffee created from 100% pure, sustainably sourced coffee beans. You can effortlessly produce fresh-tasting, consistent coffee with NESCAFE Taster's Choice without the trouble of roasting and grinding. Our Master Coffee Crafters roast and brew our unique mix of high-quality coffee beans.
Highground Organic Instant Coffee
Highground Coffee: We feel that everything that goes into making the ideal cup of coffee is important, and we are devoted to maintaining high-quality standards that promote fair salaries and procedures for farmers, as well as sustainable production techniques.
Jacobs Cronat Gold Instant Coffee 200 Gram
Jacobs Gold soluble coffee is quick and simple to prepare. Selected coffees from various coffee growing regions are beautifully blended with one another. As a result, you get a unique coffee experience with a magical pampering aroma. Jacobs Gold is the ideal bread for resuming activity in the interim.
How to make this instant coffee
Simply add hot water and the coffee experience is complete. A perfect, soluble coffee for all of life's frantic circumstances and tiny rests in between. Of course, Jacobs Gold is also on the go and ideal for vacations.
Nescafé Azera Americano Instant Coffee
Nescafé Azera Americano Instant Coffee This coffee is fantastic! Best flavour ever – barista flavour, silky, well-ground, and unexpectedly nice for an instant coffee.