The Irish coffee is a classic drink with a simple unique formula. If you look at the origins of Irish coffee, you see it necessitates the use of four common ingredients: The combination of a smooth Irish whiskey and a thick black coffee that has been sweetened and topped with cream is heavenly.
Although the Irish coffee cocktail was not the first coffee drink to include alcohol, it has become one of the most well-known. The Irish coffee cocktail is a hot, creamy classic that combines coffee with Irish whiskey, brown sugar, and softly whipped cream to wake you up on cold mornings or keep you going after a long night.
It's not as simple as spiking coffee with a slug of whiskey to make authentic Irish coffee
Instead, this is a well-thought-out, meticulously crafted coffee beverage that should be prepared with the same care as any latte or cappuccino. However, this classic drink with a simple unique formula is actually pretty simple. Choose a fine Irish whiskey and follow the recipe to see why this traditional drink is regarded as one of the best of all time. As it's clear in the origins of Irish coffee, it's the perfect after-dinner drink for a chilly evening, and you'll want to share it with everyone you know.
Check out the Latest coffee tips on the coffeemag.ca : At what age can children drink coffee?
Numerous legends surrounding the origins of Irish coffee
According to the most plausible account, the drink was created by Joe Sheridan, the head chef of the Foynes Flying Boat port restaurant in County Limerick in the early 1940s. According to legend and the origins of Irish coffee ,when asked if it was Brazilian coffee when he first served it, Sheridan said, "No, it's not."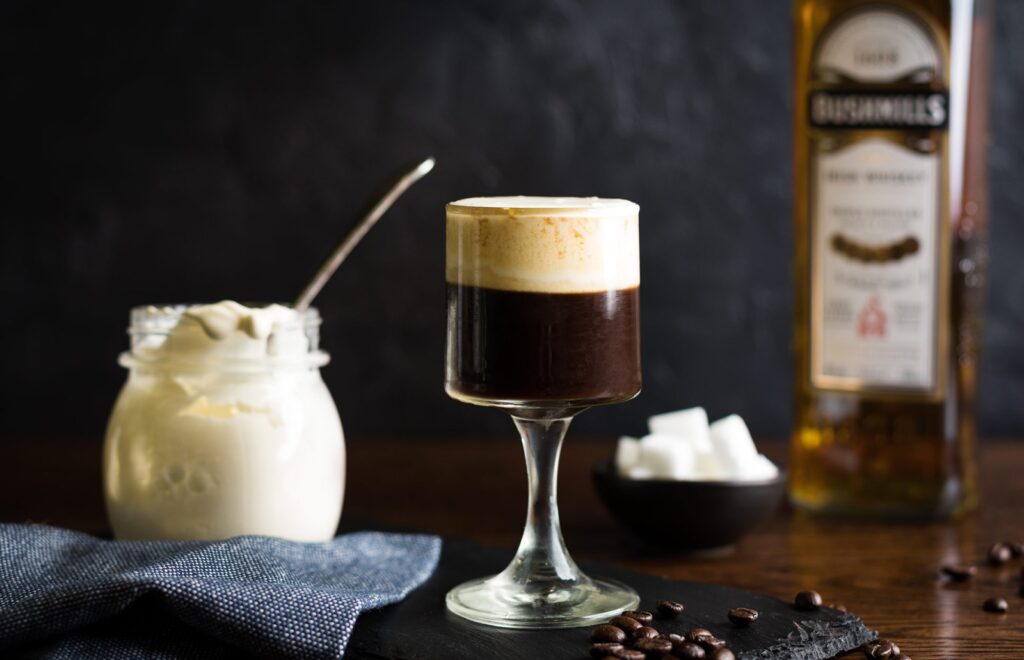 Stanton Delaplane, a Pulitzer Prize-winning "San Francisco Chronicle" columnist who visited the Buena Vista Cafe in San Francisco during the 1950s, made the Irish coffee cocktail famous. He and the bar's proprietor, Jack Koeppler, sought to reproduce the warming elixir after sampling one in Ireland. They were successful, and Deplante wrote about the drink in his syndicated column, which was widely read throughout the United States. This contributed to the drink's popularity in Buena Vista and beyond. The San Francisco pub can serve over 2,000 Irish Coffees on a busy day. The drink's appeal is simple to see, a classic drink with a simple unique formula, with its soothing combination of Irish whiskey, caffeine, and cream.
The Irish coffee cocktail should not be a big drink
According to bartending great Dale DeGroff, bars, particularly in the United States, go too large, ruining the balance of an otherwise excellent cocktail. Starting with the whiskey, sugar, and coffee, construct your cocktail directly in the glass, finishing with a dollop of heavy cream. "A white cloud of hand-whipped cream tops the dish at The Buena Vista Cafe," adds DeGroff. "The unsweetened coldness of the cream tempers the alcohol and the hot, syrupy coffee, and also gives the drink its distinctive dramatic black-and-white appearance." If you want to add a fragrant garnish to that lovely white head, a sprinkling of fresh cinnamon or nutmeg is a choice.
Degroff adds three more suggestions for making the ideal Irish coffee cocktail:
Use a stemmed glass with a capacity of no more than eight ounces. (You can pour up to one-and-a-half ounces of Irish whiskey into an eight-ounce glass.) Jameson is my favorite.)
Pour no more than four ounces of hot, sweetened coffee on top.
Whip the cream until it is light and fluffy. It shouldn't create peaks, but it should be frothy enough to float, allowing the coffee and cream to separate perfectly, which is the drink's hallmark. It turns to be a classic drink with a simple unique formula.