An iced latte is a coffee beverage made with espresso, milk, and optional sweetener. To simulate the steamed milk in a standard latte, the milk is frequently frothed. So, what's the difference between hot and cold coffee? Iced coffee is made with freshly brewed coffee and optional milk. If you want to learn how to make ice Latte, read on!
What is Ice Latte?
Do you see lattes and iced lattes everywhere these days? If you're wondering what an iced latte is, I'm here to explain! An iced latte is just milk blended with espresso in a glass with ice. Yes! It's that easy!
Ice Latte Ingredients
2 shots of brewed hot or cold espresso (approximately 2 oz)
8 oz milk (any variety)
2 oz liquid sweetener, such as a coffee syrup, maple syrup, caramel sauce, honey, or simple syrup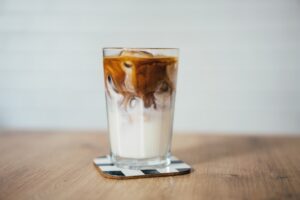 How to prepare ice Latte
Step 1
The first step is to obtain espresso, which can be either cold or hot. I make my espresso directly on top of the ice cubes in my glass. The ice helps to chill the espresso, and the cubes don't seem to melt too much because each shot I prepare contains just around 1 ounce of espresso.
Step 2
Fill a glass with ice once you've made your espresso and prepared your milk and sweetener. Pour the espresso on top of the ice. Pour in the sweetener. Fill the glass halfway with milk.
SUGGESTIONS FOR SWEETENERS
With one exception, the possibilities for sweetening an iced latte are nearly limitless. I don't use granulated sugar to sweeten any of my cold coffee cups since it doesn't dissolve correctly. Liquid sweeteners, on the other hand, blend nicely with the cold milk and espresso.
Vanilla syrup
There's the traditional vanilla syrup for iced vanilla lattes. And my blackberry vanilla syrup will subtly colour your drink a faint purple while adding a pleasant flavour boost. OH! And don't forget about my almond toasted coconut variant, made with genuine toasted coconut and steeped in a 5-minute simple syrup.
Maple syrup
Whether hot or cold, this natural sweetener is a delightful way to sweeten your coffee. Take a look! You've just prepared an iced maple latte! Simple syrup is just a mixture of equal parts water and sugar that is boiled for 5 minutes. When the liquid has cooled, it is a simple syrup that may be used to sweeten coffee. This is regarded as the "classic syrup" at Starbucks.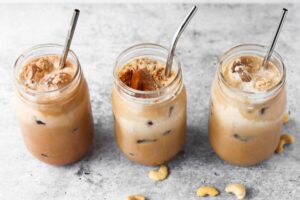 Caramel sauce:
This is a great way to sweeten your iced latte! My vanilla bean caramel sauce will provide a delicious toasted taste to an iced latte. My three-ingredient salted caramel sauce adds a sweet, intensely toasted, and slightly salty flavour to an iced latte. You can't go wrong with either recipe, but make sure to reheat the caramel sauce slightly before adding it to the iced latte.
Natural sweetener
Honey is an excellent natural sweetener for both hot and cold beverages. Honey will provide flowery taste notes to your iced latte and will accentuate any naturally sweet aromas in your espresso.
Eggnog:
I make an excellent hot eggnog latte during the holidays, but if you want to create an iced eggnog latte, simply add the eggnog to the iced espresso without first heating and foaming it.
WHAT MILK SHOULD BE USED?
You may use whatever type of milk you like, including full, skim, almond, soy, or coconut milk. Or any milk in between, as long as you enjoy it! Heavy cream and half-and-half aren't ideal for lattes. You'll need 8 ounces of milk for your iced latte, and the increased fat level of heavy cream and half-and-half makes them unsuitable for this drink.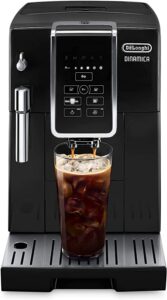 De'Longhi ECAM35020B Dinamica Automatic Coffee & Espresso
De'Longhi ECAM35020B Dinamica Automatic Coffee & Espresso Machine TrueBrew (Iced-Coffee) At home, you shouldn't have to settle for a watered-down version of your beloved iced coffee. You never have to with the world's first and only fully automated espresso maker with iced coffee technology. De'Longhi TrueBrew Over Ice makes smooth, full-bodied coffee over ice that is never watered down by brewing at a lower temperature, allowing for pre-infusion (coffee grounds saturation), and having the option to customise to extra strong.