How to make a healthier coffee mix with non-dairy milk and coffee? We've given this trend a healthy spin with our Dairy-Free Coffee, which is prepared with honey instead of refined sugar and is delicious! In this post we will tell you How to make a healthier coffee mix with non-dairy milk and coffee.
It's Never Tasted So Good to Be Fashionably Late.
We're a little late to the party, as with most showy cuisine trends. Images of a deliciously sweet and creamy Dalgona coffee began to appear on our social media feeds a few months ago. We didn't think much of it at first. We both prefer our coffee to be on the basic side, with only a splash of cream or milk and no added sugar. We assumed that, like other coffee trends, this one would be a fad that would come and go quickly.
Golden Swirls
If you're still perplexed as to how just three ingredients can produce a dish full of beautiful, fluffy, dairy-free whipped coffee topping, you must try it for yourself. I'm not sure why it works, but it does. As you can see in the step-by-step photographs below, only a few minutes of hand whipping (or even less if you use an electric hand mixer) transforms ordinary instant coffee, honey, and hot water into velvety smooth, light as a feather whipped coffee nirvana.
Tools
How to make a healthier coffee mix with non-dairy milk and coffee? To make dairy-free whipped coffee, you'll need the following items:
A bowl of medium size
measuring spoon with a measuring cup
Electric hand mixer or whisk
A glass
Check out the Latest coffee tips on the coffeemag.ca : Using leftover coffee grounds as a cleaning scrub
Ingredients:
Instant coffee
Instant Coffee or Espresso Powder — Any INSTANT coffee or espresso powder would suffice. It should be noted that instant coffee, not finely ground coffee, is required. Because instant coffee is freeze-dried coffee that was previously a liquid, it dissolves fast in water. This recipe will not work with ground coffee, no matter how finely ground it is. Mount Hagen Organic is my go-to instant coffee, and it comes in both normal and decaf varieties.
Honey
Honey — If you're searching for a vegan option, coconut sugar may be used in place of honey with good results. Maple syrup will also work, but the whipped coffee will be softer.
Hot water
To get the greatest results, use water that has just been boiled. My electric kettle is one of my favorites since it warms up quickly, is simple to use, and I don't have to worry about it boiling dry.
Non diary milk
Nondairy milk of choice — For this recipe, we used unsweetened, plain almond milk. You can, however, use any type of milk you choose. Because the nutrition information will alter depending on the type of milk used, we've provided the information for only the whipped coffee part below (for those who like to know those sorts of things).
Ice
(Optional) ice While this Dairy-Free Whipped Coffee is generally served cold, it may also be made with hot milk. It's all up to you!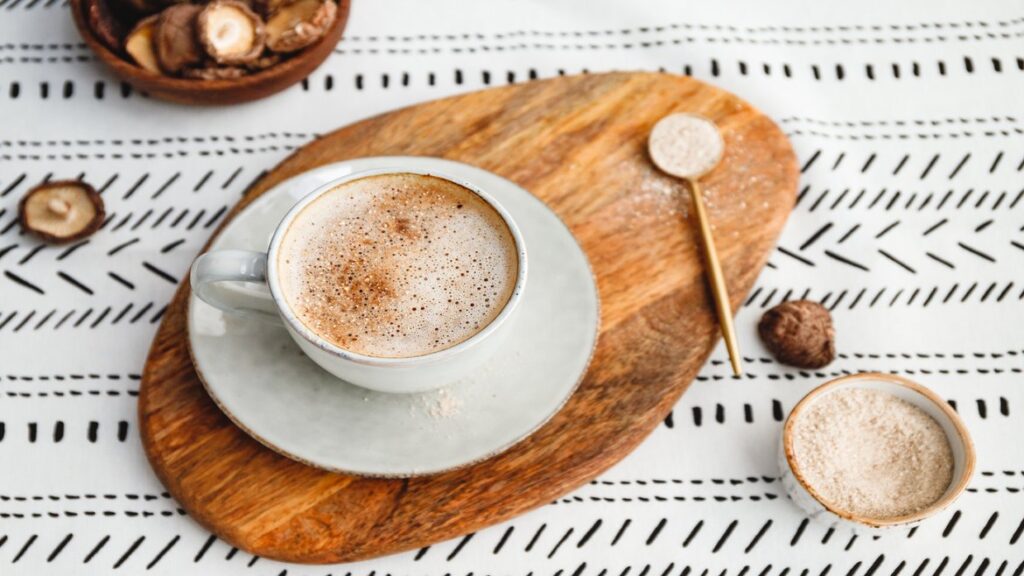 How to make a healthier coffee mix with non-dairy milk and coffee?
Step 1
Into a bowl, pour instant coffee. To be sure you're getting the appropriate coffee for the task, see the paragraph above regarding instant vs. ground coffee. Put the coffee in a dish with honey and boiling water. Mix this Dairy-Free Whipped Coffee using a whisk (if you want a terrific upper-body exercise) or an electric hand mixer. This is where the adventure begins!
Step 2
Gently combine for 15-20 seconds on low speed with a whisk or mixer, or until the coffee and honey are dissolved. It's not necessary to have completely rigid peaks here; it's OK if they're a touch squishy. Pour milk into a glass (with ice if preferred) and top with whipped coffee topping. Enjoy!