What is the history of Chemex coffeemaker? The Chemex is a coffeemaker with a classic look and well-known functioning. The Chemex is easily identifiable thanks to its hourglass form and robust wooden handle, and the relatively easy brewing process makes it a powerhouse in the speciality coffee market. Continue reading for more information about the history of Chemex coffeemaker and its design.
History
Peter Schlumbohm, a chemist and inventor with over 300 patents in a variety of sectors, designed the Chemex in 1941. Peter Schlumbohm science experience shows in a number of ways: the Chemex's distinctive double-bonded paper filter was designed to provide optimal filtering for coffee extraction, and the smooth, borosilicate hourglass form was inspired by the scientific-grade glassware Peter Schlumbohm frequently worked with.
Check out the Latest coffee tips on the coffeemag.ca : Using leftover coffee grounds as a cleaning scrub
Different sizes
The resulting coffee machine was immediately hailed as an utilitarian design masterpiece, earning the Chemex a place in several museum design collections, including the MoMA. For more than 70 years, the Chemex has stayed almost unaltered.  It has Different sizes 3 cups to 13 cups and a new version with a glass handle has been created, but the classic Chemex and filters on sale today are the same as those introduced in the 1940s.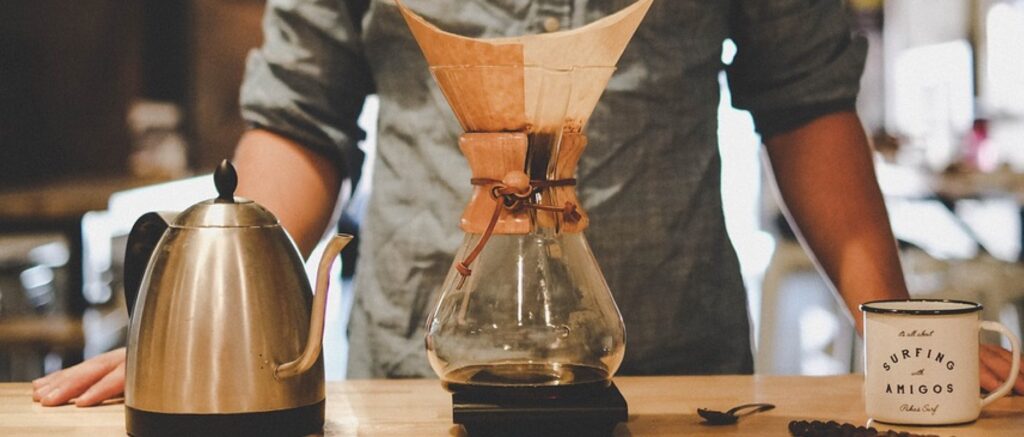 Unusual mid-century design
The Chemex coffeemaker has been extensively featured in pop culture due of its unusual mid-century design. In Ian Fleming's From Russia, With Love, James Bond uses a Chemex to make coffee. The glass coffee makers may be found in Don Draper's kitchen in Mad Men, as well as in Rosemary's Baby's Woodhouse kitchen.
The history of Chemex coffeemaker- Spanish version
Peter Schlumbohm was inspired to design this coffeemaker by two scientific instruments: his laboratory glass funnel and his Erlenmeyer flask. To allow the air displaced by the liquid trickling into the vessel to escape freely, he built an air channel to the funnel. He modified the Erlenmeyer by adding a "belly button" and then combining it with the modified glass funnel. With the addition of the lovely wooden handle, you get a one-piece, heat-resistant, borosilicate glass coffee brewer known as a Chemex that has always and continues to compete with new and old drip filter systems.
Design
Its elegant shape resembles an hourglass with a funnel-like conical neck. Filters are made of bonded paper, which is often thicker than the ordinary paper filters used in other coffee makers. These unusual filters help remove more cafestol, which is a cholesterol-raising chemical present in coffee, than the regular filters.
The heatproof wooden collar
One of its most distinguishing features is the heatproof wooden collar, which is designed to prevent burns and allow for easy handling while the vessel is loaded with hot coffee.
Hourglass form
The Chemex is a coffeemaker with a classic appearance and well-known functioning. The Chemex is easily recognized thanks to its hourglass form and strong wooden handle, and the relatively easy brewing procedure makes it a powerhouse in the speciality coffee industry.
EXPECTATIONS FROM A CHEMEX
Chemex is a pour-over technique, which means the water goes through a coffee bed and a filter, which is often made of paper. Unlike, example, a French press, the Chemex produces an exceptionally clean cup of coffee. Chemex paper filters are 20-30% heavier than conventional filters, retaining more suspended oils throughout the brewing process and preventing particles from passing through.