Three different coffee liqueurs recipe : Combining coffee with alcohol may seem strange. However, coffee is more associated with waking up in the morning, while alcoholic beverages are more consumed late at night. Well, contrary to popular belief, coffee and alcohol have been around for a long time.
Coffee liqueur is one of the countless types of wine that humans have invented for centuries. It is a very simple blend of coffee, brewed and alcohol. Sugar is added to balance the taste between the bitterness and acidity of coffee and the rawness of pure alcohol. In this article we provide three different coffee liqueurs recipe for you.
Depending on the amount of coffee, the type of coffee, the amount of alcohol and the amount of sugar added, a coffee liqueur can have a different taste from other coffee.
Given these basic signs, let's look at how coffee liqueur is usually made.
1. How to prepare an alcoholic beverage – coffee liqueur recipe
The basic recipe for making coffee liqueur is to use cold brewed coffee. This makes more sense, because the liqueur should be cold and the cold brew has a less sour taste, while retaining all the aromas of coffee.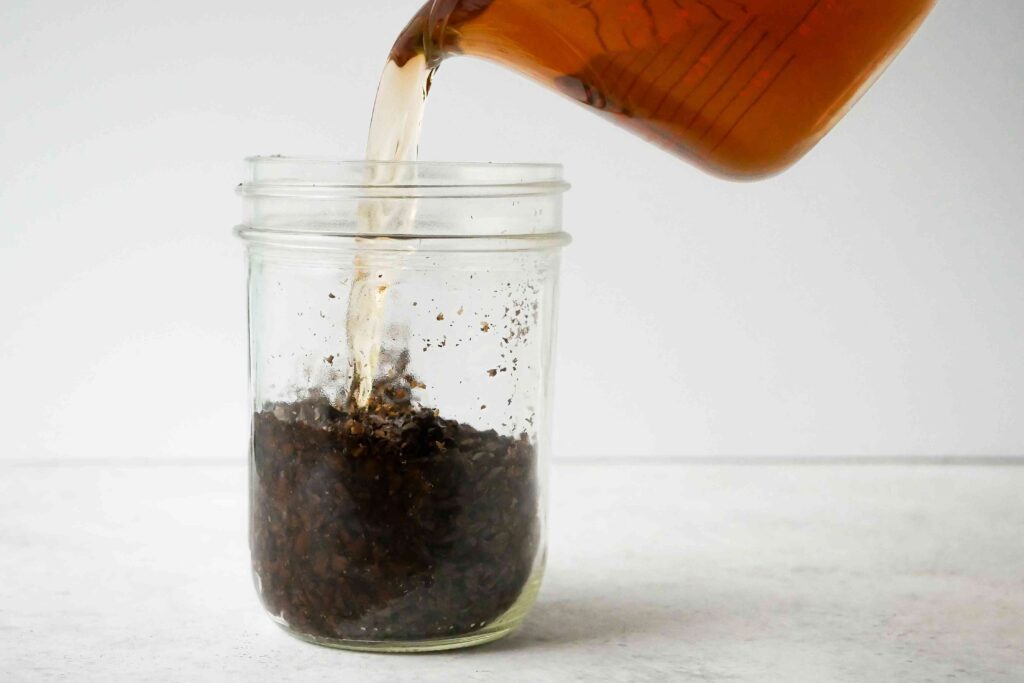 You will need:
1 cup cold coffee
½ Cup of dark brown sugar
. A glass of water
1 glass of alcohol
1 vanilla bean
Check out the Latest coffee tips on the coffeemag.ca : At what age can children drink coffee?
Continue to make sugar syrup. Heat the water with the sugar in it carefully and without stirring. Sugar dissolves naturally in water. Allow to cool. Then mix the coffee, cold syrup and alcohol. If you want a very strong coffee liqueur, you can use pure, ultra-resistant alcohol. Otherwise, try any other alcohol such as dark rum, tasteless vodka and even bourbon.
Cut the vanilla seeds in half, grate the seeds and pour the pods into the distillates. Let stand at room temperature for 2 weeks and stir occasionally. Then you should strain the liqueur through a fine mesh. And then you should store in a sealed bottle.
2. Coffee liqueur with condensed milk at home
Ingredients:
Vodka – 490 ml;
Condensed milk – 1 bottle;
Powdered instant coffee – 10 g;
Vanillin – to taste;
Fatty cream – 325 ml.
Whip the high-fat cream with the vanilla and gradually, without turning off the machine, we pour the condensed milk and coffee. Thoroughly mix everything, rinse the resulting mixture with vodka and do not insist drink 1.5 hours. Next, the coffee wine liqueur cools our home conditions and takes us to taste, pouring a cocktail over a glass jar.
3. Coffee and milk liqueur
Ingredients:
Vodka – 995 ml;
Coffee beans – 220 g;
Sugarcane – 990 grams;
Vanillin;
Cinnamon – 2 bars;
Water 990 ml
Pour the coffee, cinnamon and vanilla into a clean glass, pour in the vodka and insist for about 7 days, stirring occasionally. In addition, we dress the drinks with gauze, add sugar, milk and cold water. Mix and insist the liquor for 5 more days, then pour into beautiful bottles and store in the refrigerator.