What is the coffee Negroni?
What is the most refreshing cocktail you've ever tried? Do you know what coffee Negroni is? Do you know about the origins of coffee Negroni?
If you like to drink in the morning, but are also afraid to have a problem doing your afternoon tasks, here is a drink which not only doesn't end in an afternoon nap but also keeps you awake in a way you can't believe. This breakfast cocktail is coffee Negroni, a versatile, refreshing cocktail that has been among the most popular ones over the last 100 years. Let's answer the main question: What is the coffee Negroni?
What is the coffee Negroni?
Coffee Negroni, is a simple breakfast cocktail. It is a wonderful combination of flavors. Negroni has caffeine and alcohol and we might say it is a classier version of Irish coffee or Red Bull. The big secret in drinking alcohol and caffeine together is to know which kinds of stimulants and depressants to consume together. In coffee Negroni, strong coffee is combined with straight liquor, and nothing more. No sugar, milk, or bubbles. You can just add a bit of orange peel to your cocktail.
The origins of Coffee Negroni
The origins of coffee Negroni are lost in time, but there is a story that says its origins go back to 1919 in Florence, when Camillo Negroni, an Italian nobleman Count, asked the bartender to give him a stronger version of his favorite cocktail.
The bartender replaced the soda water with gin and used a slice of orange instead of lemon. And this is how Negroni was introduced to the world.
Negroni soon became popular in Florentine bars. After a while, the Negroni family founded their own distillery and produced a ready-to-drink version of Negroni.
In the 1940s and 1950s, the cocktail became more popular outside Italy. The first printed Negroni recipe has been printed in UK and US publications in 1955.
Check out the Latest coffee tips on the coffeemag.ca : Properties of coffee oil for body health and beauty
Negroni variations
Through these years, the classic Negroni has given rise to variations such as the negroni sbagliato (prosecco used instead of gin), mezcal negroni (mezcal used instead of gin), and the ti-negroni (tequila used instead of gin).
But in coffee Negroni, nothing is substituted. In this variation of Negroni, a chilled shot of espresso is added to vermouth, Campari, and gin. Somehow it can be the coffee drinkers' cocktail.
When to drink coffee Negroni?
Coffee Negroni is perfect for brunch, or afternoon outdoor parties in which you like to stay active. The first Negroni wakes you up, and the next few will make you feel like a child right after naptime. Just remember not to continue drinking Negroni for more than a few hours if you like to sleep at night.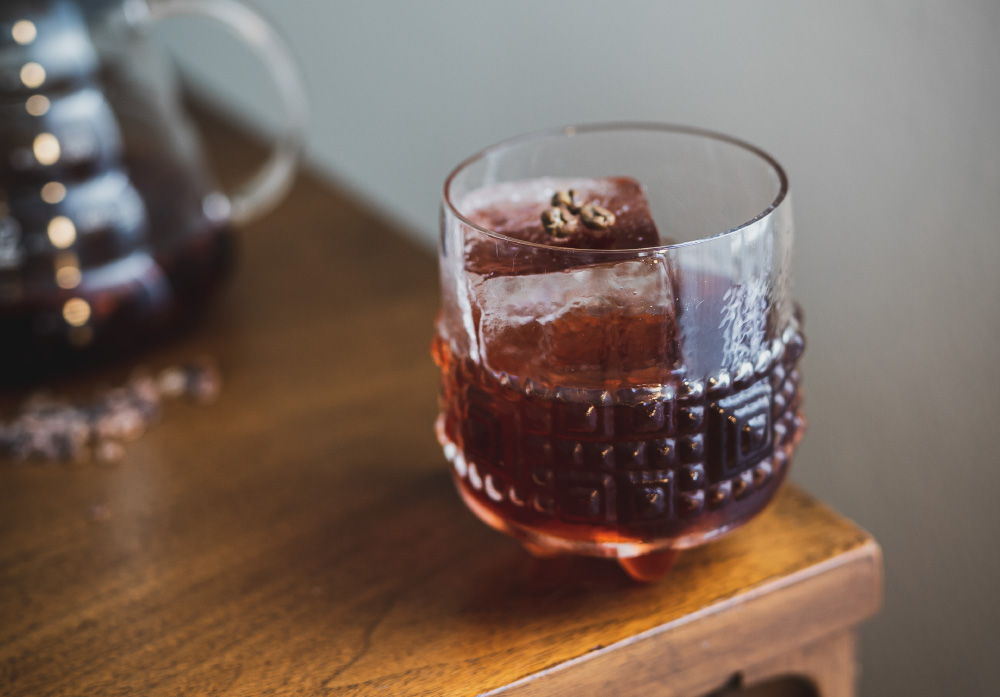 How to make coffee Negroni
Now, knowing the answer to "What is the coffee Negroni?" and knowing about the origins of coffee Negroni, it's time to see how to make coffee Negroni for yourself.
There is no official recipe for this cocktail, but almost all experts agree that it includes gin, vermouth, Campari, and espresso. Some people use coffee liqueur, and some others like to use fresh coffee. Some even prefer to use mezcal instead of gin. Here, we will tell you the simplest way to make coffee Negroni.
Making a serving of coffee Negroni will take you 5 minutes.
Ingredients to make coffee Negroni
Gin: 1 part
Sweet vermouth: 1 part
Campari: 1 part
Espresso: ½ part
Orange peel
Directions to make coffee Negroni
Fill 2 glasses with ice. Mix equal parts Campari, gin, and sweet vermouth in one of the glasses. Stir them to chill. In the other glass, pour one shot of espresso and stir to chill.
In a third, empty glass, pour the liquor. Add half of the strained, chilled, espresso (or add to taste).
Squeeze orange peel over the glass. Wipe the peel around the rim. Add the peel to the cocktail.