These days, AeroPress has become one of the most popular methods of brewing coffee due to its various capabilities. This small device is cost-effective and durable, and most importantly, the coffee made using it is of high quality. In the following, we will take a closer look at this popular coffee maker. We will also say Who invented AeroPress and why?
What is AeroPress?
AeroPress is a compact coffee maker that makes a great cup of coffee in seconds. With this device, you will be able to control all the variables you need to make a great cup of coffee, so people with different tastes can easily make coffee according to their taste. The drink is prepared using air pressure under air pressure and is said to taste similar to espresso.
Check out the Latest coffee tips on the coffeemag.ca : At what age can children drink coffee?
A brief history of AeroPress
Who invented AeroPress?
AeroPress was first invented in 2005 by a man named Alan Adler as a low-cost alternative to espresso machines, but quickly gained popularity among coffee lovers and was used to make a variety of coffees.
Adler, a professor of mechanical engineering at Stanford University and the inventor of the original Aerobie ring, has been in the coffee industry for many years since AeroPress was introduced at the Coffee Fest trade show in 2005.
While theAeroPress World Championships, a separate project, is coming back this year, AeroPress Inc. launched the super-compact version of AeroPress in 2019 with a carrying case called theAeroPress Go.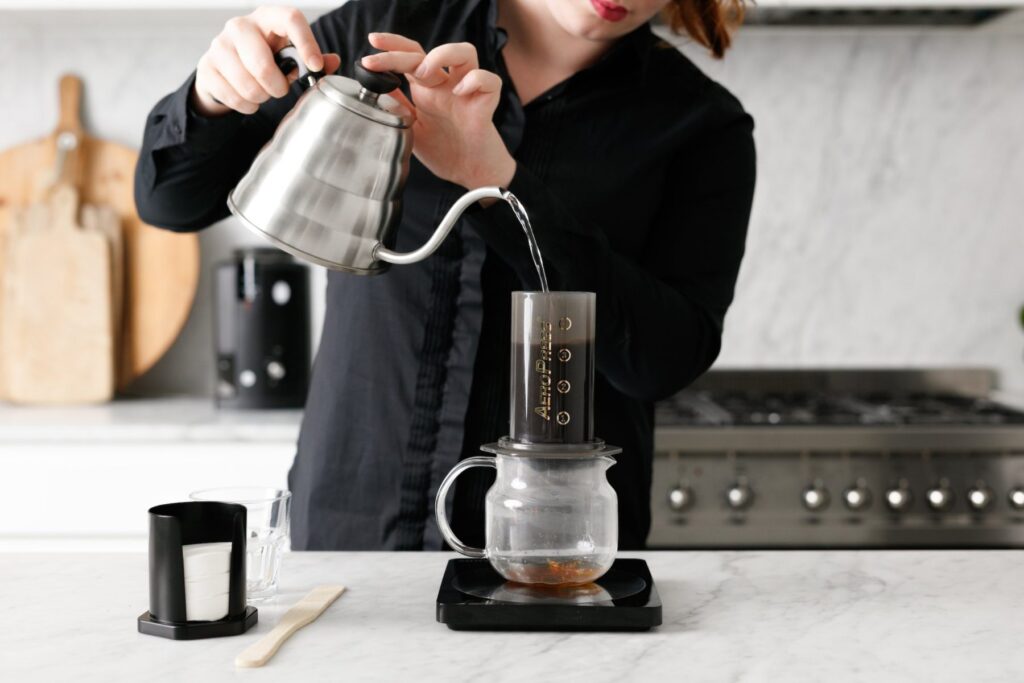 AeroPress material
This tool is made of three different types of plastic, which are:
Coupling ester used in the tail production chamber and part of the piston.
Thermoplastic elastomer used in the black part of the piston.
Polypropylene used in filter caps, funnels, stirrers and measuring scopes
All three plastics are approved by the Food and Drug Administration and minimize environmental impact.
Important points in preparing coffee using AeroPress
After making coffee with this device, immediately remove the piston from the tail chamber, because if the piston stays in the cylinder for a long time, it may be damaged and not be so strong.
The combination of a paper filter and a short immersion time in this method makes the coffee drink airy or relatively thin, but with this device you can increase the immersion time and thus increase the air infusion of coffee. Also, using a metal filter instead of a paper filter allows oils and fine coffee particles to pass into the final cup, thus increasing the airiness and flavor of the drink.
You can make a French coffee in the style of a French press by selecting a larger grinder using theAeroPress.
Can AeroPress make an espresso machine as well as an espresso machine?
Comparing AeroPress with a real espresso machine is a bit unfair, because you only pay a fraction of the cost of buying an espresso machine to buy a AeroPress, but in general, even though the coffee made using it is similar to real espresso, in particular it can not be pressured. Make enough to make espresso.